Do you market to medical centers, practices, hospitals, or ambulatory surgical centers?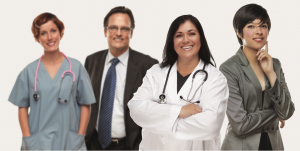 If so we should talk call me at 610-608-0173 or email evcorp@salesassoc.com
If you deal with medical practices, hospital financial people, RCM directors or physicians you may qualify as an RCM Independent Sales Organization (ISO). Costs are rising for medical facilities, and it is more difficult to find certified medical billers so many organizations are outsourcing their billing functions for the professional component of their charges.
Hospitals can usually handle the facility billing for an "in-patient" admitted to the medical center for even a short period of time. However, the large number of relatively small charges for physician visits, examinations, or elective surgical procedures burdens their billing staff and they would rather outsource this function to a company that specializes in it.
Medical and surgical centers as well as medical group practices and even individual physicians are looking for billing assistance because they can't find qualified billing people that want to work within a medical facility, and the COVID crisis only exasperates the problem. If you market to the medical community, you may be able to offer RCM services and earn good and fair commissions for every facility that you sell.
If you qualify, we will assist you with direct sales support, access to marketing materials, client webinars and sales assistance to close your prospects. But we need you to introduce us to your prospective medical clients. Call or email me and I'll give you the details.
Buy the sales book on How to Increase Your Sales
Kindle version is only $4.99
Click here for more information on Amazon.
Make More Sales, And Make More Money
How to Increase Your Sales Commission Dollars by Becoming a More Effective Salesperson
The Sales Associate®  —  Personal Development Skills Series
Here is a "how to" book filled with proven sales techniques to help you become a more organized, effective, and successful salesperson. This book explains how the top salespeople make more sales and more money than the average salesperson, and how you can learn to use similar traits to improve your sales performance. If you are a small business person; a corporate salesperson, an independent sales representative; or involved in the direct selling industry this book contains personal development skills to improve your sales success. This book is a basic sales primer—which defines all 6 steps of the sales call process, as well as sales technique to focus your efforts on key accounts who can significantly improve both your revenue and commission dollars.
ISBN 978-0-927701-05-1  •  •  •  Printed in the United States of America
About Us
Evergreen Ventures is a Manufacturer's Representative firm that specializes in marketing and sales for companies selling into the computer distribution, and physician marketplaces. We concentrate on long term, relationship selling within the segments. We generate marketing plans, sales training, product launch programs; and sales lead generation, tracking, and follow-up programs for small and mid-size companies. Programs include email marketing, social media, Internet advertising and web site optimization coordination with your marketing programs.